Same spiel as before. The spoilers here are arguably even worse than the first post. Again, DO NOT LOOK IF YOU HAVE NOT COMPLETED THE GAME. Two of the pictures are major spoilers.

---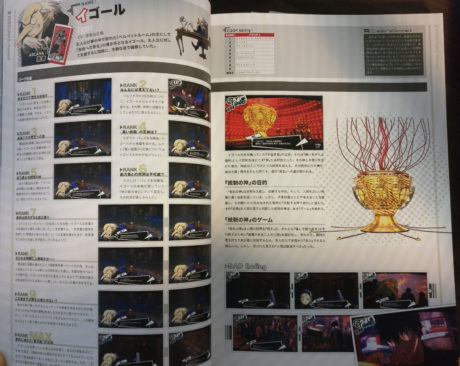 Igor
CV: Tsukayama Masane
Confidant Profile
Arcana: The Fool
The master of the Velvet Room that MC visits in his dreams, who guides him on his "rehabilitation"
He supports MC while also calmly observing him
Creator's Comment:
Unlike previous Persona games, this time the Fool arcana is not MC's social link with the party
"Confidants" differ from social links because rather than friendship, they represent bonds based on "contracts"
However in Igor's case, this was also foreshadowing to make the player aware that their relationship with Igor is different from the previous games
---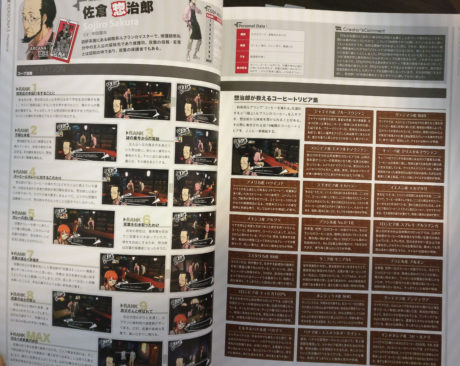 Sakura Soujirou
CV: Nakata Jouji
Confidant Profile
Arcana: The Hierophant
The owner of Cafe Leblanc in Yongenjaya and MC's probation officer who gives him a place to stay for free
He was old friends with Futaba's mother, Wakaba, and is now Futaba's legal guardian
| | |
| --- | --- |
| Hobbies | Crosswords, taking care of leather goods |
| Skills | Coffee brewing, making curry, garage parking |
| Habits | Scratching the back of his head |
| Favourite Foods | Apart from curry and coffee he also likes bitter foods like oysters and wild plants, but since he's considerate of Futaba's tastes, they rarely appear on the dinner table. |
Creator's Comment:
From P4 we found that having a charming housemate greatly improved the game experience, so at first there was disagreement about whether it'd be a good idea to have a rude old man there instead *laughs*
However, if MC had a kind, understanding person with him from the very beginning, then it wouldn't become a "picaresque" story, so we decided to stay faithful to the concept
P5 differs from the previous two games in that the nature of the real world and alternate world are reversed
In P3 and P4, the alternate world symbolizes negative concepts, while everyday life in the real world is a place to rest
In P5, it's the real world where MC is ostracized, making his phantom thief activities in the alternate world feel more positive
In order to make that distinction clear, we had Soujirou give off a bad first impression
---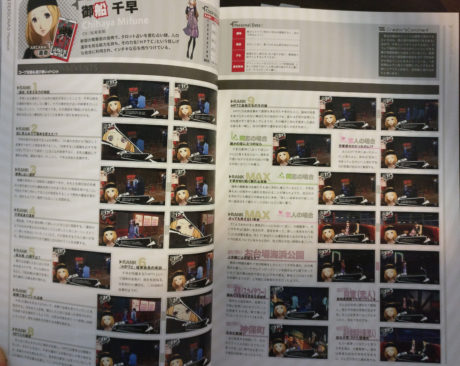 Mifune Chihaya
CV: Matsuki Miyu
Confidant Profile
Arcana: The Wheel of Fortune
A fortune teller that does tarot readings on a street corner in downtown Shinjuku
She has the power to see people's futures, which a shady organization called the HPTC (TL note: iirc it's ADP in English ver) takes advantage of to sell its fake stones
| | |
| --- | --- |
| Hobbies | Redesigning clothes (her hometown didn't have any clothing stores she liked, so she made them herself) |
| Skills | Tarot reading, identifying edible wild plants |
| Habits | Dragging out the ends of words (she has a strong accent, so when she tries to talk in standard Japanese, it ends up like this) |
| Favourite Foods | Ethnic food like green curry. When she first tried it after coming to Tokyo, she was surprised that it tasted like herbs, but now she's totally in love with it. |
Creator's Comment:
A fortune-telling stall is something you see quite often in busy city streets, so before we designed Chihaya, we'd already decided to make a location like that
The idea of having to pay her an incredible amount of cash right at the very beginning may seem crazy, but when you experience it in-game it's actually oddly realistic and fits the setting well
---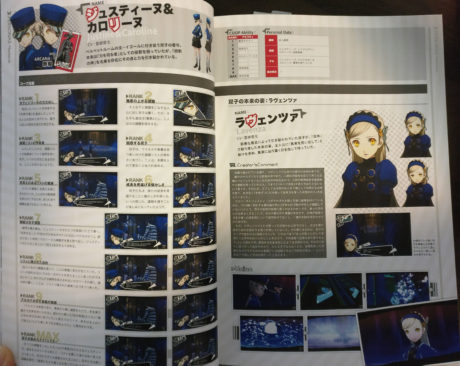 Justine & Caroline
CV: Toyosaki Aki
Confidant Profile
Arcana: The Strength
The twin wardens that serve Igor, the master of the Velvet Room
Was originally a ruler of power, but the God of Control split that body and power into two
Hobbies
Monitoring prisoners
Skills
Justine: Triple Down
Caroline: Vajra Blast
Habits
Justine: Flipping through her records
Caroline: Raising her baton
Favourite Foods
?
The twins' original form:
Lavenza
CV: Toyosaki Aki
The original form of the twins, which had been torn apart by an evil intent, and regained through "fusion"
She had been seeking help from MC, waiting for him to discover the truth
Creator's Comment:
As written in the story, Lavenza is the twin wardens' original form
Yaldabaoth is the God of Control, and the completely opposing existence to the Velvet Room which guides humans, believing in their potential
He does not have the power to directly assist humans in their spiritual growth, and cannot facilitate "persona fusion" on his own
Therefore, he needed to use a real inhabitant of the Velvet Room as a servant, and employed one who had been split into two so that she could not think for herself anymore
Caroline and Justine wear opposite eyepatches because they are each missing the half of the brain that controls one eye (their brain functionality was also split into two)
This is also why their personalities are completely different
They have been brainwashed to only think one-sided thoughts, so they don't question their strange circumstances or missing memories
However, Lavenza didn't just obediently let herself be split – she left behind various clues to regain herself
The most conspicuous one was the "task list" in the twins' confidant story, which was an attempt to restore her memories by using the same tasks that the Velvet Room inhabitants would use to help their visitors
If she'd simply written the direct truth, either Yaldabaoth would have disposed of it upon finding it, or it was possible that she would not recognize it as important information without her memories
Under those circumstances, this list was her last resort
Screenshot note:
In NG+ if MC has defeated the twins, Lavenza cheerfully confesses to him
---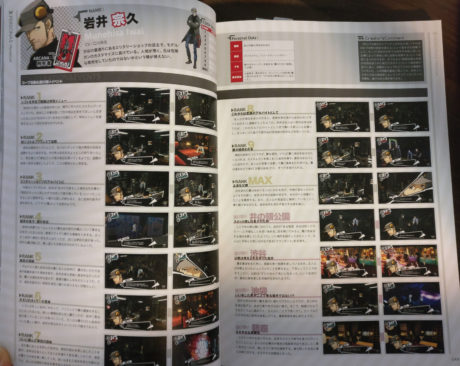 Iwai Munehisa
CV: Egawa Hisao
Confidant Profile
Arcana: The Hanged Man
The manager of a military shop in a back alley in Shibuya, who is proficient at model gun customization
He looks intimidating, and there are constant rumours that he used to be involved in some dangerous business
| | |
| --- | --- |
| Hobbies | Watching reruns of old Western films |
| Skills | Gun customization, acoustic guitar |
| Habits | Sucking on lollipops (ever since he quit smoking for Kaoru's sake) |
| Favourite Foods | Strong-flavoured meat dishes like shougayaki, yakiniku, etc. (He never touched the accompanying vegetables until Kaoru told him to) |
Creator's Comment:
Since P5 is a realistic depiction of Tokyo, it would be problematic to say "you can buy real guns from the store over there"
We decided that in the cognitive world, as long as the enemy thought that it was a real gun then it would work like a real gun, but then realized it would be strange if the melee weapons were real swords but only the guns were fake – figuring out what to do with the weapon shop was a difficult challenge
Creating Iwai's character helped us reach a balance between realism and imitation
---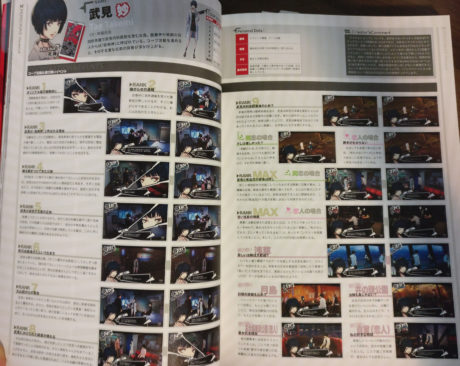 Takemi Tae
CV: Saitou Yuka
Confidant Profile
Arcana: Death
The practitioner at Takemi Medical Clinic in Yongenjaya
Her peers in the medical field refer to her as "The Plague"
In her confidant story, you learn the story behind that shameful name
| | |
| --- | --- |
| Hobbies | Appreciating the classics, collecting dolls |
| Skills | Accurately measuring seasoning volume by eye |
| Habits | Crossing her legs when she sits |
| Favourite Foods | Strongly seasoned food like mapo tofu, hot pot, etc. She used to be interested in medicinal cooking, but now she just enjoys flavourful food. |
Creator's Comment:
For the previous games' item shops, there was no problem with making them drugstores, but this time we had to mull it over
If it were just a matter of selling recovery items then a drugstore would be fine, but when you introduce it into the story as a "supplier of recovery items", suddenly you have to wonder, "If they're supposed to be avoiding suspicion from society, wouldn't it be a bad idea for a high schooler to be buying large quantities of medicine for injury treatment?" or "If they want prescription drugs then they need to conspire with a real doctor"
That was when we came up with the idea for a "punk fashion private physician"
---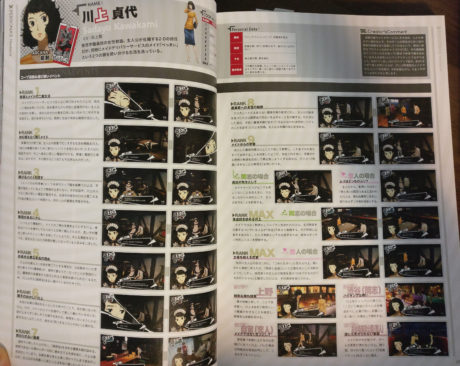 Kawakami Sadayo
CV: Fuchigami Mai
Confidant Profile
Arcana: Temperance
A female teacher at Shuujin Academy
She is the homeroom teacher of MC's class, 2-D, but lives a double life as Becky, a maid from a maid delivery service
| | |
| --- | --- |
| Hobbies | Window shopping, watching travel shows |
| Skills | Household chores, fishing (only at fish ponds; she doesn't go to rivers or the sea) |
| Habits | Crossing her arms when she thinks |
| Favourite Foods | Mildly luxurious food. She likes having lunch at a somewhat fancy place on her days off, and eating ice cream in her warm room on a cold day. |
Creator's Comment:
A teacher that works at a maid service behind the scenes, who falls in love with her student, and regularly sabotages other teachers' classes to help him out… Her character profile sure packs a punch *laughs*
Her unbalanced traits actually represent the reality of "an adult woman working nonstop in the city"
If I may praise myself here, I think her Becky sprite design does a really good job of portraying that "just barely enough to be considered pretty, but she's trying too hard with the makeup" look
---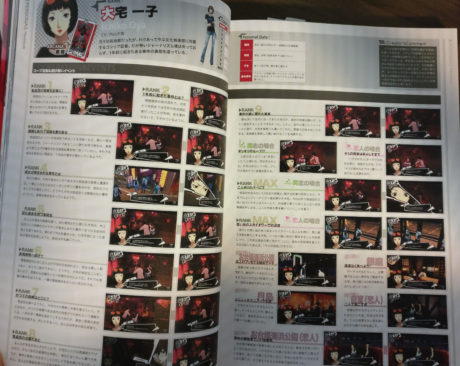 Ooya Ichiko
CV: Uchiyama Yumi
Confidant Profile
Arcana: The Devil
A journalist who used to be in the politics department, but for certain reasons is now reporting on entertainment industry gossip
She has not lost her passion for journalism though, and is getting closer to the truth of the incident that happened a year ago
| | |
| --- | --- |
| Hobbies | Traveling (anywhere), cheering at martial arts tournaments |
| Skills | Stenography, ping pong (never loses at hot springs) |
| Habits | Holding her chin in her palm when sitting and talking |
| Favourite Foods | All alcoholic drinks (especially whiskey on the rocks). Her favourite snacks to go with them are nuts, Lala's handmade pickles, etc. |
Creator's Comment:
When telling the story of "phantom thieves shaking up the world" in a realistic Tokyo setting, a media journalist character is indispensible
Ooya's voice actress, Uchiyama Yumi-san, was perfect in how she got into the role, and her talent really helped us out
Not just Ooya, but all of the confidant voice actors were brilliant, and you can really feel P5's unique sense of community beyond just the party members
---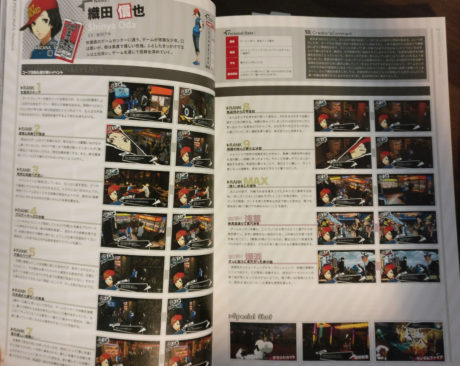 Oda Shinya
CV: Kanada Aki
Confidant Profile
Arcana: The Tower
A boy that's good at games and goes to the arcade in Akihabara
He's got a bad mouth, but inside he's a kind, honest kid
MC meets him by chance, and they deepen their trust through games
| | |
| --- | --- |
| Hobbies | Going to arcades, collecting Phantom Thieves merch |
| Skills | Shooting games (not just Gun About), double jump rope |
| Habits | Touching the brim of his hat |
| Favourite Foods | Salisbury steak, gyoza, etc. (He likes eating them, but also likes making them with his mom.) |
Creator's Comment:
In the previous games' social links, the MC formed bonds with people as a result of his actions, but confidants are different because the MC is specifically approaching them for their abilities which are of use to the Phantom Thieves
This means that there are characters who won't get along with him at first, which we emphasized in Oda
We planned for him to start off as a bratty kid that you had to go along with, and eventually you would want to support him
A boy who didn't fit in anywhere but an arcade in a corner of town, who improved his skills so that he could make his measly 100 yen last as long as possible… upon being praised for it, that arcade became a pseudo "home" for him, and he desperately clung to it, arrogantly looking down on newcomers
There seem to be more people who sympathized with him than we expected, despite his bad attitude at first *laughs*; he has a lot of supporters
---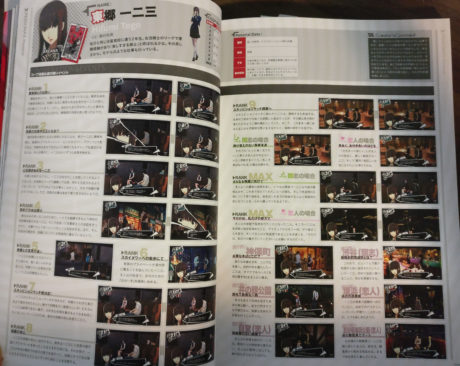 Tougou Hifumi
CV: Isomura Tomomi
Confidant Profile
Arcana: The Star
A second year student at Kousei High, the school that Yuusuke attends
She has won the championship in the women's shogi league before, and is called the Venus of Shogi for her captivating beauty
Because of her looks, she also does modelling work
| | |
| --- | --- |
| Hobbies | Studying shogi moves, collecting relaxation items |
| Skills | Shogi |
| Habits | Gets passionate during matches, seeing the shogi board as a battlefield and giving grandiose commands |
| Favourite Foods | Under her mother's orders, in magazine interviews she says avocados and bagels, but she actually prefers filling foods like udon or katsu curry. |
Creator's Comment:
Some fans already know this, but Tougou Hifumi was originally planned to be a party member
We also wrote the plot of her story back then, and it remained mostly the same with some minor adjustments
Later on, we gave her "traditional Japanese viewpoint" to Yuusuke, and her "raised under the control of adult values" to Makoto and Haru, so that those aspects would still be there
---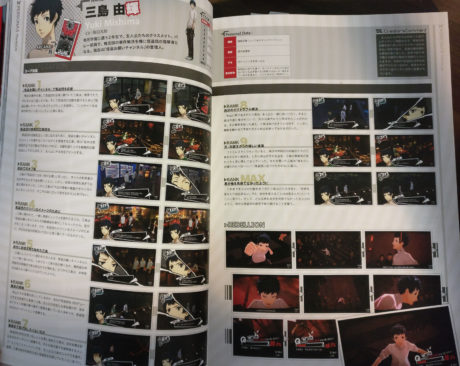 Mishima Yuuki
CV: Sakaguchi Daisuke
Confidant Profile
Arcana: The Moon
MC's classmate, a second year student at Shuujin Academy
A member of the volleyball club that became a believer in the Phantom Thieves after the Kamoshida incident
Currently the administrator of the Phantom Aficionado Website
| | |
| --- | --- |
| Hobbies | Information gathering (aka internet surfing) |
| Skills | Message board management |
| Habits | Putting his hands in his pockets |
| Favourite Foods | Like any boy his age, he'll eat anything, including parsley in sandwiches (he doesn't like it, but can't stand seeing it leftover). |
Creator's Comment:
This is a story about the Phantom Thieves rising to fame, so a friend character with an ordinary civilian perspective was a must-have from the very beginning
In the previous two games, Yousuke and Junpei served this role, but this time the Phantom Thieves are outlaws themselves, so we placed the civilian character outside of the main party
---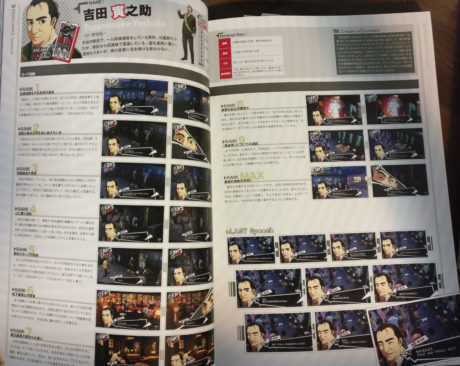 Yoshida Toranosuke
CV: Noda Keiichi
Confidant Profile
Arcana: The Sun
A man who does public speeches by himself in front of Shibuya station
He was a former Diet member, but as of now has lost 7 elections in a row
He is seriously worried about the country, and his speeches are good, but very few people listen to his words
| | |
| --- | --- |
| Hobbies | Tai chi (his daily morning routine), watching live broadcasts of baseball games |
| Skills | Remembering people's faces and names |
| Habits | Looking into people's eyes when he talks |
| Favourite Foods | Beef bowls, oden from food carts (especially with egg). He prefers quick meals for lunch, but in the evenings he likes to take his time while drinking. |
Creator's Comment:
He doesn't quite fit in among all of the beautiful boys and girls *laughs* On the other hand, he is the most straightforward representation of the confidant concept, that is, "approaching strangers who have useful abilities and getting their cooperation"
Yoshida's story would not have turned out this way if it were in the social link system of the previous games
He is a character who believes that he must stick to honest methods, even if they don't bring results – the way he carries out his justice is the complete opposite from the Phantom Thieves
Facing an adult like him one-to-one represents one of the most important themes in this game
---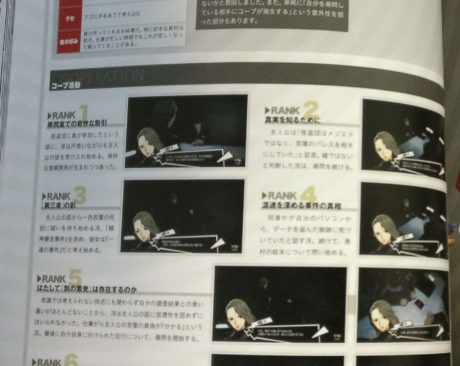 Niijima Sae
CV: Kaida Yuuko
Confidant Profile
Arcana: The Judgement
Makoto's older sister, a perceptive female prosecutor who is leading the investigation into the Phantom Thieves
She is working hard on the cases for the mental shutdowns and the Phantom Thieves, but her boss thinks of her enthusiasm and righteousness as a nuisance
| | |
| --- | --- |
| Hobbies | Touring (though she's been too busy for it lately) |
| Skills | Kickboxing |
| Habits | Putting her hand to her chin when she thinks |
| Favourite Foods | The miso soup that Makoto makes for her. Her favourite ingredient is eggplant. Sometimes even when she's really busy at work, she'll go home because she's craving it. |
Creator's Comment:
Sae is the only character that is with MC in the "present" during his long recollection
The plan was for the player to realize when her confidant bond begins that winning her over may be the key to escaping ruin, and get more excited to see what comes next
We were also aiming for the simple surprise factor, with your interrogator becoming a confidant