Results are finally out!
http://moe-gameaward.com/prize/2013/index.html
Long translations after the jump.

First Place Overall – Tsuki ni Yorisou Otome no Sahou (Navel)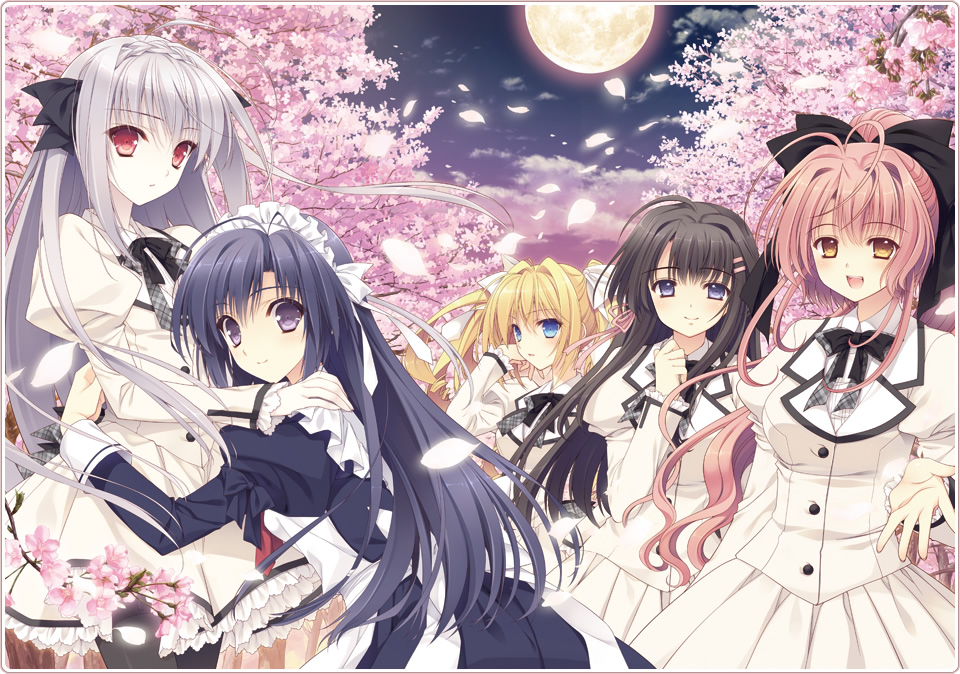 The system was changed this year to allow games released from September ~ December of the previous year to be eligible as well, resulting in some very fierce competition. Of all of those games, the one that shone most brightly was Navel's 10th anniversary work, Tsuki ni Yorisou Otome no Sahou. The art was done by Suzuhira Hiro and Nishimata Aoi, well known for their work in several hit titles in the past, and the scenario was done by the amazing writers Ou Jackson and Higashinosuke. With such a godly staff, there's no way it wouldn't be a success!

The story involves the protagonist dressing up as a girl to attend an all-girls academy, where he serves as a maid for his rich classmates. The entire game benefits from both the "trap protagonist" and "master+servant" tropes, but what made the best use of it was Sakurakouji Luna's route. Luna is the master, and the crossdressing protagonist Kokura Asahi (real name Ookura Yuusei) is so cute that you'd think he was the main heroine. Their love transcends both social status and gender, and both of them are undeniably moe. It's also incredibly moving to see the protagonist work hard to achieve success, so that he may walk the same path together with the genius Luna.

What this game excelled at was the immersive (girly) environment. The story takes place in a flashy scenario, with the protagonist being an illegitimate child in a financial clique, as well as getting involved in the fashion design industry. The heroines are rich and influential upper-class ladies. The graphics, scenario, music, and voice acting all do their part to express the girls' feelings to the player, and you really do empathize with the protagonist.

The sequel, Otome Riron to Sono Shuuhen also ranked highly in the user polls, so do make sure to play it as well.

– BugBug Editorial Chief Oosawa Tadamoto
Runner Up – Grisaia no Rakuen -LE EDEN DE LA GRISAIA- (Frontwing)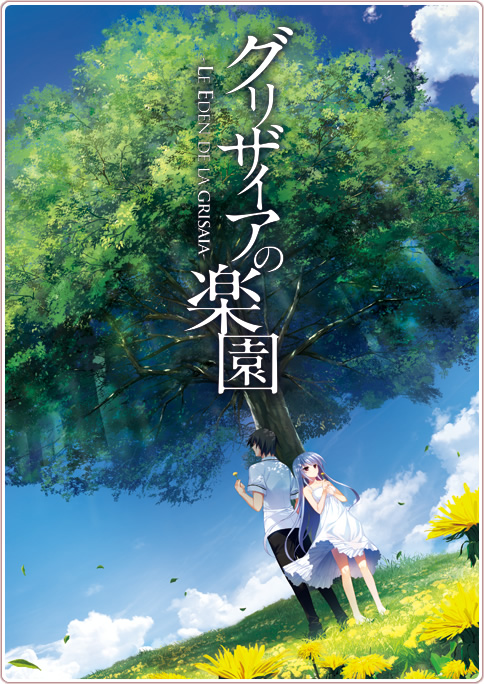 The final instalment in the Grisaia trilogy, following from its predecessor Grisaia no Meikyuu which also won first/second place prizes. Once again it fought for first place, but when we considered that the purpose of this award is to "make recommendations for PC game beginners", it became a runner up, because you won't understand the appeal of this series if you only play this final game.

Still, it's incredible that this trilogy received top rankings three years in a row! It really stands out in the industry, especially in these tough times, to be able to put out three games in the span of three years, all of which are of award-winning quality.

An anime adaptation of the first game, Grisaia no Kajitsu, has already been announced, so I'm sure the series' popularity will only continue to rise. I encourage you to play this entire trilogy of games, from Grisaia no Kajitsu all the way up to Grisaia no Rakuen.

– BugBug Editorial Chief Oosawa Tadamoto
Runner Up – Prism◇Recollection! (Clochette)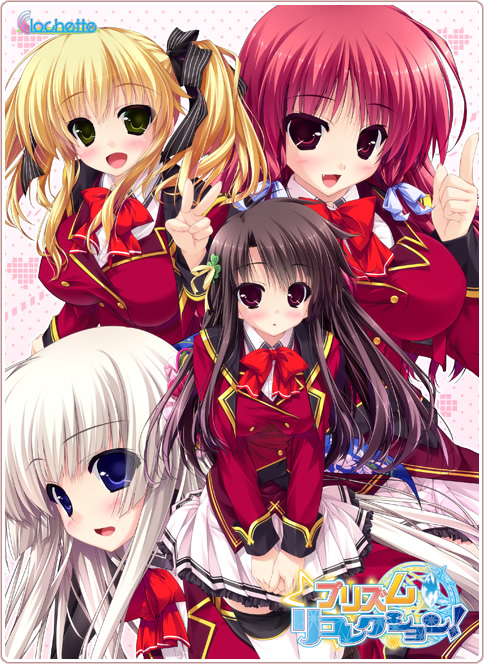 The final runner up was decided after much heated discussion. Our judging committee was torn between Prism◇Recollection! and LOVELY×CATION2.

In the end, the moe/ero-focused, easy to understand Prism◇Recollection! won over LOVELY×CATION2's solid game system and modern character designs, because it's easier to recommend to beginners.

This game's best selling point is the charming characters drawn by Shintarou, and their even more charming breasts. Even though the characters are dressed, their breasts are so voluptuous that the clothes look like they're bursting at the seams – it's a must-see! That's the basis of its visual appeal, but the art in general is very beautiful as well.

This game is more than just mainstream moe; there is effort put into the ero as well. You could consider it the representative work of "moe ero" type games.

– BugBug Editorial Chief Oosawa Tadamoto
---
Scenario Gold Prize – Natsukumo Yururu (Sumikko Soft)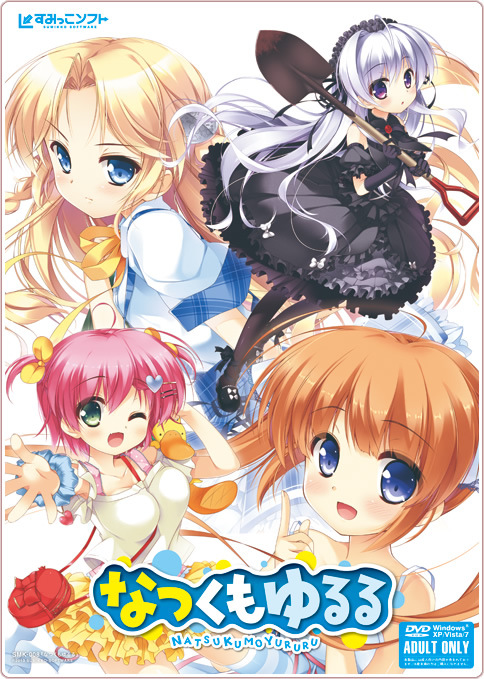 This is the second year in a row that this "series" has won first place in scenario, with Natsukumo Yururu following after last year's Haru made, Kururu.

The characters have just begun their summer vacation, but are then trapped in a closed-off version of their town, and are stuck repeating the same week over and over. As the scenario progresses, you learn more and more about why they ended up in this situation.

The story is linear, so it's more like a novel than an ADV, but the battle scenes are very expressive, and thanks to that, there is a great sense of suspense and anxiety.

The sci-fi elements are worked in very neatly, and the story ties together well.

– Comic Market Preparation Committee Member Yamashita Tomoo
Scenario Gold Prize – Gun Knight Girl (CandySoft)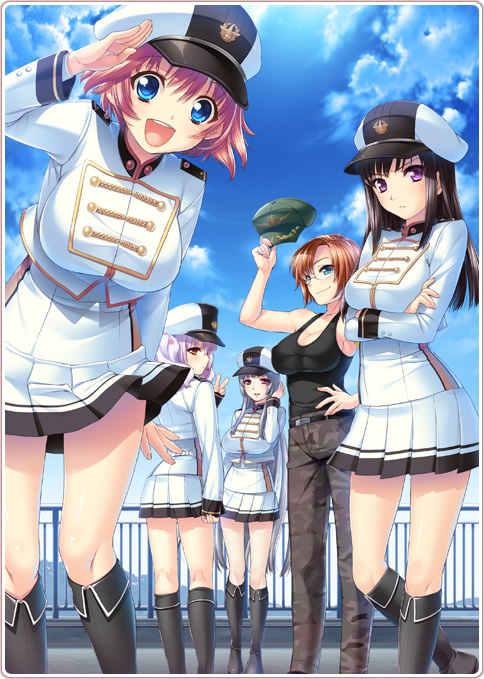 This game has a completely different literary style than the previous games from this brand, and the scenario is absolutely amazing. The helplessness of the protagonist, the characters' backgrounds, and the weight of the story are portrayed in the writer's unique style, and it is refreshing to read. The foreshadowing is well done, and after completing all of the routes, all of the mysteries are unravelled.

The depth of the characters' personalities, including the ones that aren't main heroines, are a good match for the tragic story, and the game succeeds in making the player sympathize with them.

I look forward to seeing more from this writer.

– Comic Market Preparation Committee Member Yamashita Tomoo
---
Pure Love Gold Prize – Sono Hanabira ni Kuchizuke wo: Michael no Otome-tachi (Yurin Yurin)
This brand started off as the indie brand Fuguriya, and now goes by Yurin Yurin as their professional brand. This is their first commercial title, and features many characters from their Sono Hanabira ni Kuchizuke wo series.

What sets this game apart from other moege is that it has a female protagonist and a female love interest – in other words, it's a yuri game.

The number one appeal of this game is its depiction of the pure love between young girls, their fragility, and their tender struggles. And it's not just the protagonist's point of view – you also get the relationships between the senior students and the teachers. Seeing everything weaved together into a single setting is very satisfying. If you want a taste of yuri, this is the perfect game for that.

– Design Studio Ifudo Member Takagi Keisuke
Pure Love Gold Prize – LOVESICK PUPPIES -Bokura wa Koisuru Tame ni Umaretekita- (COSMIC CUTE)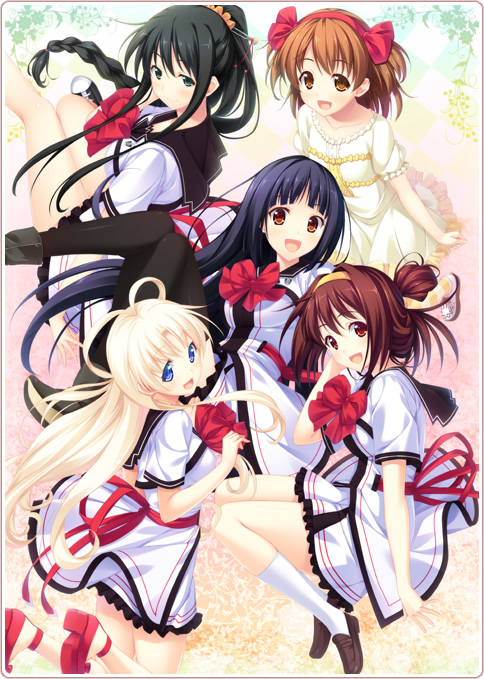 This moege has a very long scenario, and covers all sorts of traits, such as "school life", "under one roof", "overprotective heroine", "tsundere heroine", "sweet love", etc. As the heroines develop their love for you, everyday life begins to change, creating lots of "fun memories" for the player.

Each heroine has her own quirks, and after solving her problem, a pure sweet love awaits you.
I can confidently recommend this game to anyone who wants to feel like they're making memories while enjoying a fun everyday life.

– Design Studio Ifudo Member Takagi Keisuke
Pure Love Gold Prize – Ojousama wa Gokigen Naname (ensemble)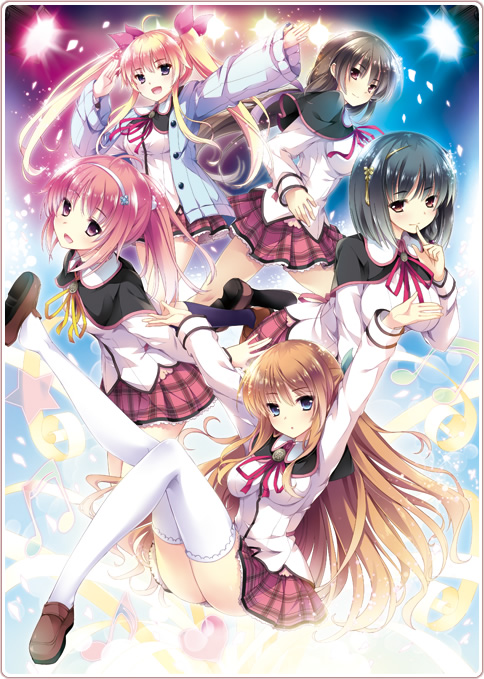 Selfish yet lonely, harsh and prideful – pursuing love with that kind of high-class lady seems like it would be full of hardships, but a man will long to build a close relationship with her nonetheless.

This work features a straightforward, immersive story with the wealthy heroines. There is a big gap in the lifestyles and sense of economics between them and the protagonist, but the protagonist has a good personality, and stands up against the problems that arise.
There's also variety in the plot developments, ranging from battles to love comedy skits.

For those who like ojousama heroines who act selfish even though they're lonely on the inside, interacting with the heroines in this game will be more than enough to satisfy you.

– Design Studio Ifudo Member Takagi Keisuke
---
Character Design Gold Prize – LOVELY×CATION2 (hibiki works)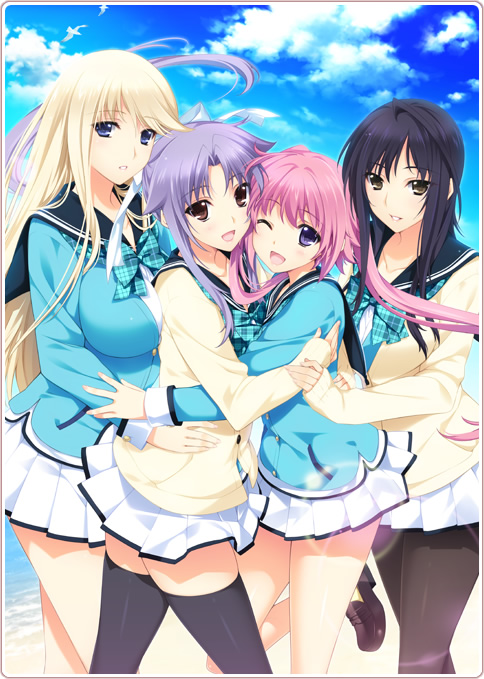 This game is designed to show you the appeal of its characters, as well as giving you the sense of solidifying your relationship with the heroines.

It features a system where the heroines will call you by your actual name and change their appearance and say new things when you give them presents, allowing you to shape them to match your tastes. At the same time, you have to match their tastes and preferences in order to unlock new events, which means that you won't be able to win them over if you're only concerned about your own wants.

Experience the appeal of Iizuki Tasuku's character designs yourself, and watch them develop. This game was picked for the gold prize not only for the graphics, but for its overall good balance. You can customize your own experience with the cute lover of your choice.

– Design Studio Ifudo Member Takagi Keisuke
Character Design Gold Prize – Magical Charming! (Lump of Sugar)
Lump of Sugar always has cute character designs, but this time there were an exceptional number of votes for them.

Korie Riko's cute heroines are drawn with soft expressions, and their eyes are enriched with the "Charming" feel in the title. They're even more enjoyable in intimate scenes. This game also has a love mission system, which makes it more engaging by giving you objectives to clear.

This brand always has different settings and characters, but it has a stable fanbase nonetheless. This is proof of a brand that has earned people's trust.
The game doesn't rely only on its characters, and instead also presents enjoyable challenges as you try to clear it. I recommend it to anyone who wants to enjoy the heroines' charm as well as their true colours.

– Design Studio Ifudo Member Takagi Keisuke
Character Design Gold Prize – Koiiro Marriage (Marmalade)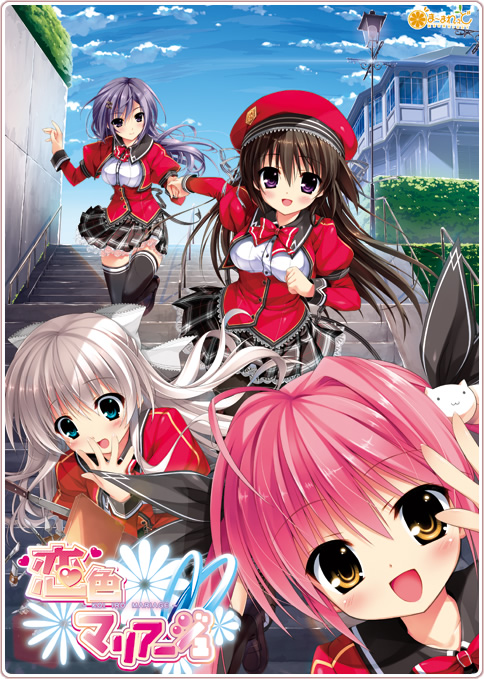 This game is brimming with Marmalade-style brilliance, sweetness, and ero. The CG quality in particular is very good.

The visual quality of this game is amazing, with popular artists such as Sasorigatame, Chikotam, Murakami Suigun, and Kokonoka all balancing their styles together to create one world. The ero scenes were also very good, further boosting its moege quality. There are feelings of transparency and cloudiness, tenderness and spiciness, as well as passion and beauty.

Of course, the story pinpoints the appeal of each heroine, especially Morikawa Mihono. She starts off with a cruel disposition, but it eventually develops into sweet love, and the gap presented by her newfound dependency on the protagonist is so satisfying that it's embarrassing.

Very good CGs and a proper love comedy plot. I recommend this to anyone who wants to thoroughly enjoy some rich sweetness.

– Design Studio Ifudo Member Takagi Keisuke
---
Ero (Pink) Gold Prize – Imouto Paradise! 2 (MOONSTONE Cherry)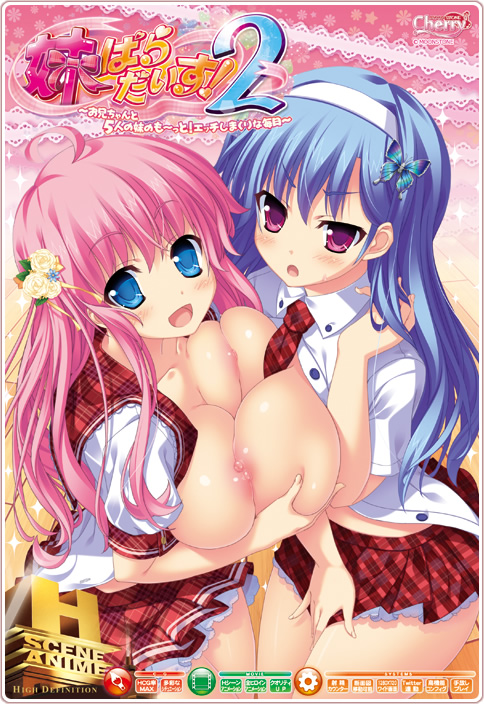 As the title implies, this is the second game in the series. However, you can still enjoy this game even if you haven't played the prequel. Thanks to that and its cute characters, it has received a lot of support from players.

This is a nukige focusing on moe, with a scenario involving five little sisters with different personalities, all of which adore their older brother. It was also popular enough to get a manga adaptation as well as a novel adaptation. The game is very easy to play, and you can reach the H scenes without any stress at all.

– Pasocon Paradise Editorial Chief Maruyama Kazumi
Ero (Pink) Gold Prize – Tonari no Pu~san (Tanuki Soft)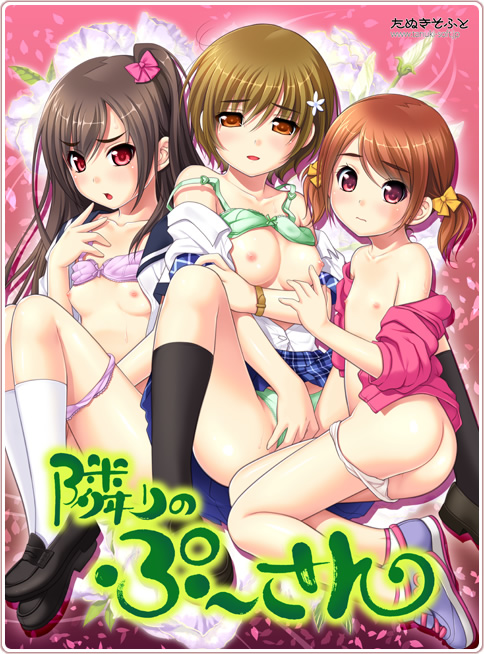 People often say "Tanuki Soft's protagonists are always like 'that'," and for good reason. But this game is no exception; the fact that the protagonist is a perverted old man makes for a bit of a strange situation.

There are some bishoujo games that make protagonists that you can't really empathize with, but this one takes it up a notch. The protagonist loses his job due to corporate downsizing, and wants to kill himself – but before that, he wants to see a girl's panties, and gets run over by a motorcycle as a result. This idiotic yet amusing opening is what leads the player into the game world. And most of all, the selling point of this game is its high quality panty CGs – to the point where I also want to give it a Panty Award.

– Pasocon Paradise Editorial Chief Maruyama Kazumi
Ero (Pink) Gold Prize – Kurano-kunchi no Futago Jijou (CUBE)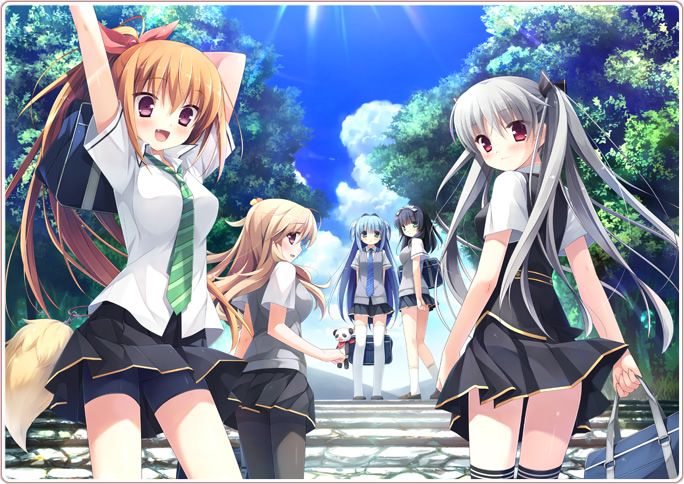 This game was released in 2012, but continued to receive fan support in 2013 as well. It's basically a harem game, but the heroines are your two older twin sisters, your own (younger) twin sister, and your two younger twin sisters, i.e. three sets of twins.

The voice actresses portrayed the characters very cutely, and the story is easy to get into. This is the first time CUBE has done an incest+ero-focused game, but it feels like a comedy – not serious at all. The subject matter seems like it could easily take a dark turn, but instead it's always bright, and doesn't leave a bad aftertaste. It also has a lot of "practical" use.

– Pasocon Paradise Editorial Chief Maruyama Kazumi
---
(No translations for the next category because lazy and no cute girls.)
Ero (Black) Gold Prize – St. Estera Gakuin no Shichinin no Majo (Astronauts)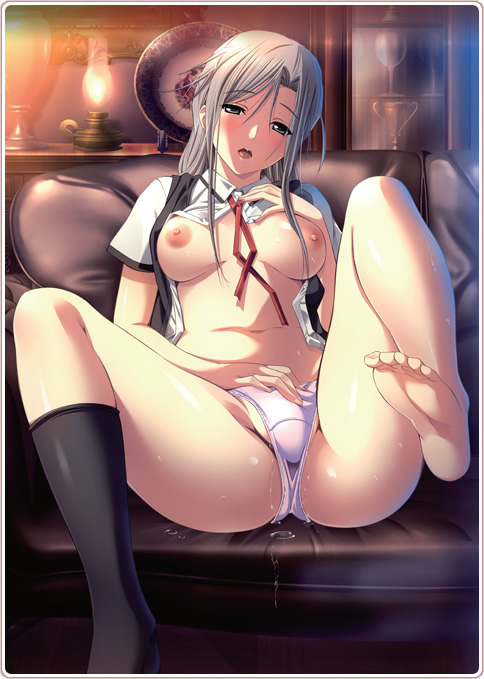 Ero (Black) Gold Prize – Dominanc E (Empress)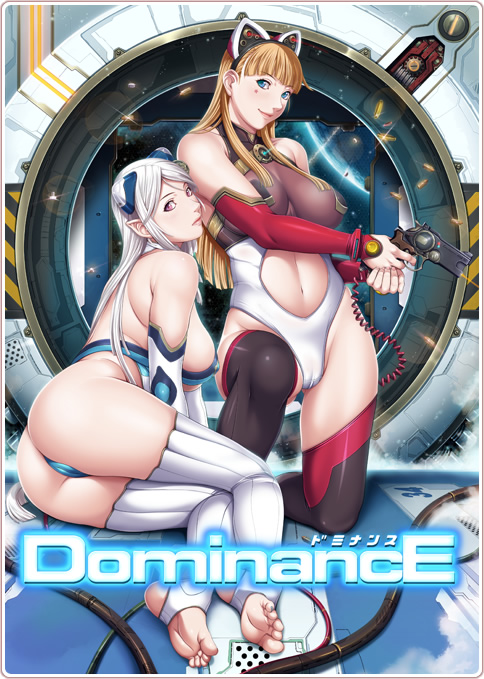 Ero (Black) Gold Prize – Mesu Kyoushi 3 ~Inetsu no Gakusha~ (BISHOP)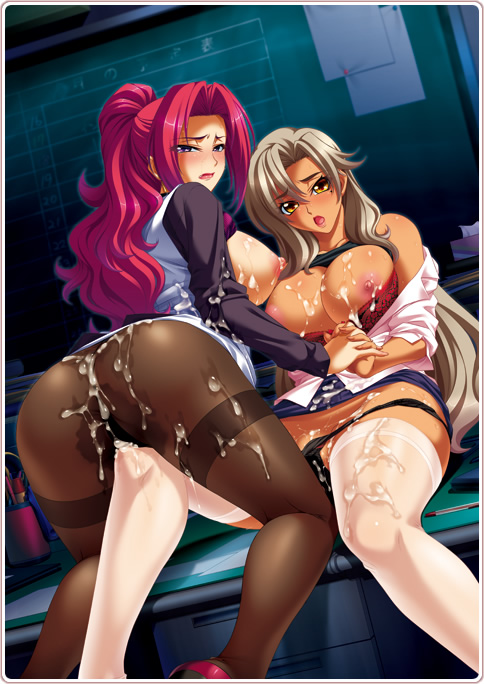 ---
New Brand Gold Prize – ChuSingura46+1 (Inre)
There are titles released by new brands every month, but many of them do not continue producing new works. In this industry, there is a strong inclination towards supporting titles from stable brands which have previously proved themselves. Since new brands are lacking in accomplishments, it's difficult for them to succeed. This year, it's Inre that's receiving the New Brand award. They originated from a doujin circle that had accomplished things in the past, so they didn't start from zero, but their initial sales still weren't high. However, thanks to word of mouth, their sales gradually rose in the yearly rankings. It's amazing that the quality of this work was high enough to keep the long-term sales going. I hear their next work has been planned, so I hope they continue on to become a new popular brand.

– PC PRESS Editorial Chief Tsuda Kiyokazu
New Brand Gold Prize – Tsuisou no Augment (Jirai Soft)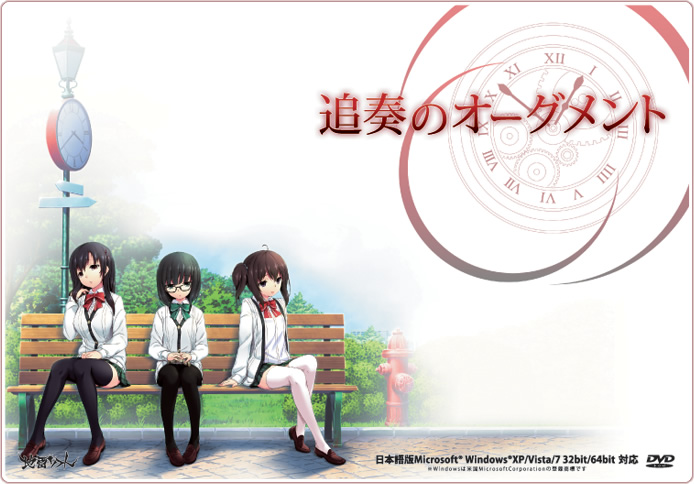 Jirai Soft draws attention mostly for its drastic name (Jirai means "landmine"), but their writing style is also sharp and leaves a challenging impression. The fandisc, Tsuisou no Augment (written with different kanji) is also a very determined, fastidious story. They do not have any future works planned yet, but their peculiar style does have potential, so I hope to see more from them.

– PC PRESS Editorial Chief Tsuda Kiyokazu
---
Fandisc Gold Prize – Kono Oozora ni, Tsubasa wo Hirogete FLIGHT DIARY (PULLTOP)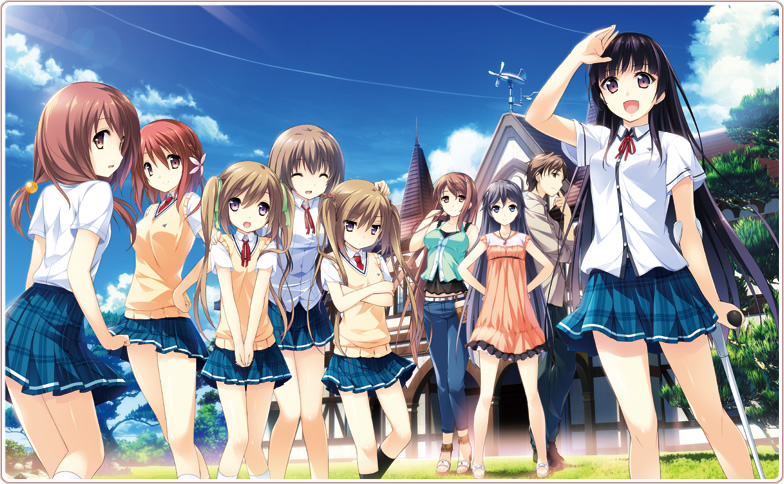 This is the fandisc for last year's grand prize winner, Kono Oozora ni, Tsubasa wo Hirogete.

What first interested me was the "if" stories that turned Himegi Hotaru and Shigure Kanako into main heroines. Hotaru in particular was so popular that she ranked 2nd in the official character poll (with 1st being the main heroine Kotori herself), so it's about time she got raised to heroine status.

The next point of interest is the "Soaring Club After" story that takes place after Kotori's route in the original game, and the "Soaring Club Before" story that shows the activities of the Soaring Club in the past. The "After" story continues from the original game, and is a splendid read. "Beauty" Kotori-chan's appeal skyrockets, bringing back all of the tension from the original game.

There are also after stories for the other main heroines, which round out the rest of the fandisc. For those who haven't played the original game, there is a bundle package available now, so you can play through both of them at once!

– BugBug Editorial Chief Oosawa Tadamoto
---
Theme Song Gold Prize – Justy×Nasty ~Maou Hajimemashita~ (Whirlpool)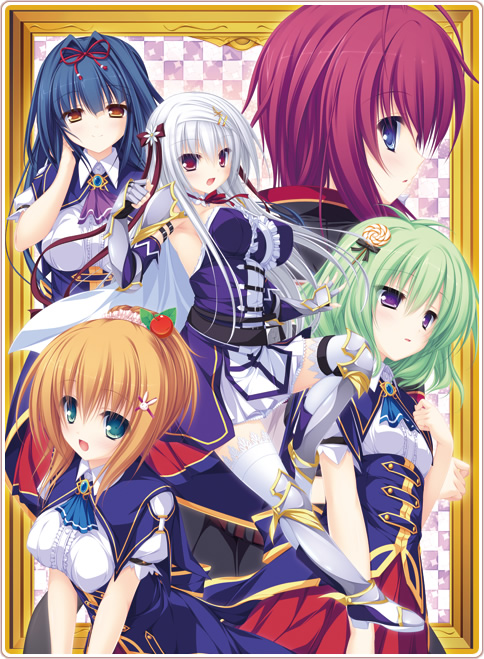 The theme song award is usually a fierce fight every year, but this time a different evaluation method was used and Justy×Nasty ~Maou Hajimemashita~ won quite easily.

The full versions of the vocal songs were included on a maxi single as a preorder bonus. Whirlpool puts a lot of work into their music and so they are often nominated for Theme Song and BGM awards, and this title is no exception. The OP theme "LOVE ADVENTURE" is a catchy song, perfect for an opening – NANA's vocals and SugarLover's lyrics definitely work in harmony here. However, the OP and ED both use standard chord progression and singing styles, so there are those who think it's too generic moege music. We look for lofty things like the balance between vocals and harmony, which this game certainly exceeded at, but I would also like to hear stronger arrangements.

– GameStyle Editorial Chief Saitou Daisuke
---
BGM Gold Prize – Himawari no Kyoukai to Nagai Natsuyasumi (Makura)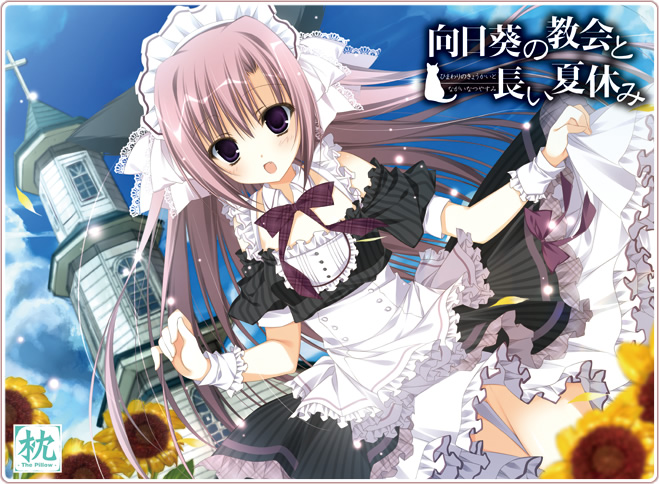 Himawari no Kyoukai to Nagai Natsuyasumi is a game that expresses bright, charming, and silly emotions, with a relaxing atmosphere aided by its music, which consists mainly of piano and acoustic instruments. The game takes place in a countryside church that has been abandoned due to depopulation, and the BGM brings forth imagery of blue skies and vast scenery. It supports the calm environment, the same way good salt does when it's sprinkled onto food.

The good thing about the BGM is that it doesn't restrict itself to the commonly-used piano; it also makes good use of woodwinds and string instruments. Still, the ending sad melody had solid balance. As the piano version transitions into the ED, it leaves a strong impression in your heart. The BGM in a game is like the spice that accentuates the story.

– Dennou Mousou Kaihatsushitsu Host Ayumi.
---
Game Design Gold Prize – VenusBlood -GAIA- (dualtail)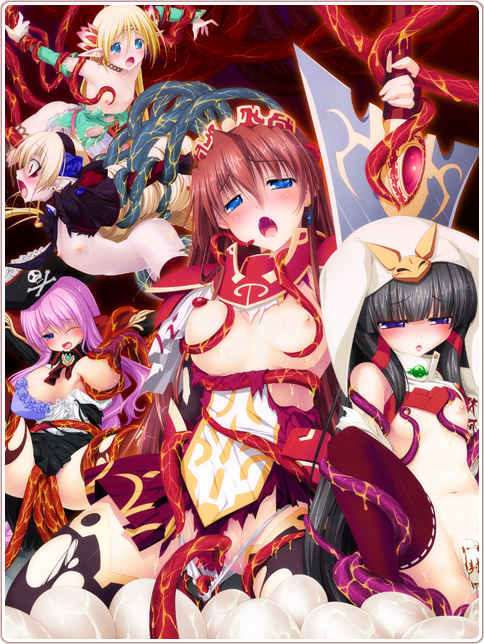 VenusBlood is dualtail's signature series and the first game came out in 2007. The main themes in the series were always "corruption" and "tentacles", but the games themselves had different systems. The first two games were tentacle corruption SLGs, while the third (DESIRE), fourth (Empire), and sixth (FRONTIER) were conquest-style tactics SLGs, and the fifth (ABYSS) was a home base defence SLG – the game systems were constantly being modified and improved. This year's award winner, GAIA, combines the fifth game's impregnation/spawning theme and defence system with the sixth game's popular unit recruitment and training systems. It also provides a tutorial, easy mode, and free demo version to ease players into the system.

– GameStyle Editorial Chief Saitou Daisuke
---
Promotion Gold Prize – Monobeno -happy end- (Lose)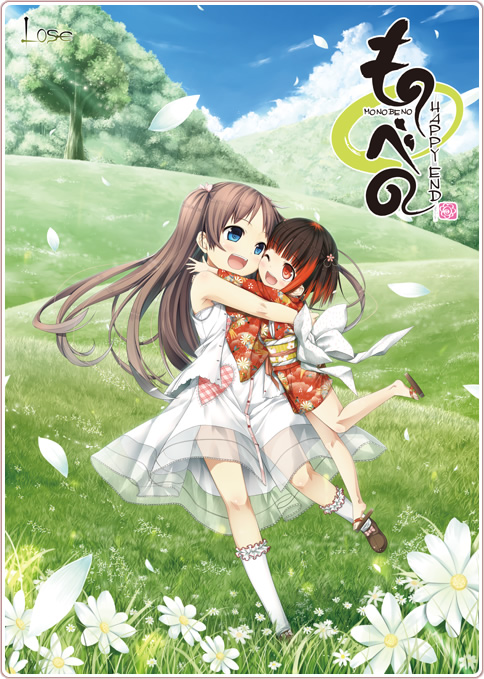 This game uses 2012's original Monobeno as a base, rewriting parts of the original game. I heard that Lose was incorporating user feedback into their next work, but Monobeno -happy end- has truly answered the voices from the users, making for a real "happy end". The contents and announcements were carefully done, so that those who played the base game would not feel like they had wasted their time. The sales were also similar to the original game. Even the box size of the first press edition was huge, which drew more attention to it. They also periodically participated in events. We also can't overlook the things they did for the users, such as having special lottery prizes. They are receiving the Promotion Award this year for having a high quality product with distinct direction.

– PC PRESS Editorial Chief Tsuda Kiyokazu
---
Best Planning Gold Prize – Tsujidou-san no Jun'ai Road (Minato Carnival)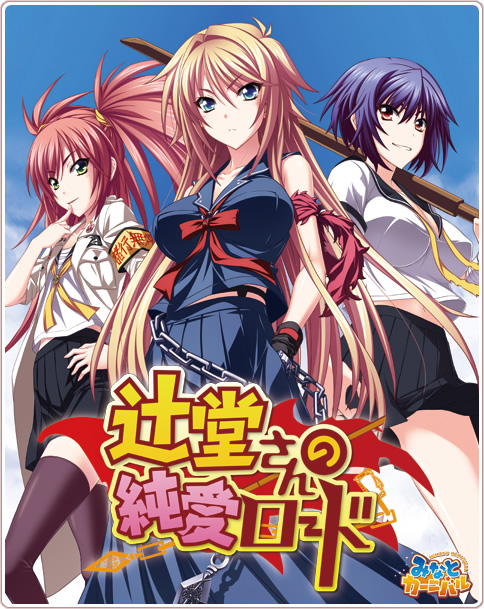 This is the debut work of Minato Carnival, Minatosoft's sister brand. It features the rare theme of delinquent heroines, and the sales were quite good. Just like their parent brand, you can feel that they're trying to expand their territory. Last year, Minatosoft was a big hit in the download sales category. And since entering the year 2014, they've been revealing their new plans, which cover a wide range. The sales promotion for Tsujidou-san no Jun'ai Road was very proactive, using large displays in Akihabara including an event with a stage matching the setting of the game. The bishoujo game market is very relentless these days, so it's good to be proactive and try to appeal to as many users as possible. There are so many types of content competing with each other that you need both quality and the ability to draw attention. That's why this brand is receiving the Planning Award.

– PC PRESS Editorial Chief Tsuda Kiyokazu
---
Low Price Gold Prize – Saimin Yuugi (Staffing)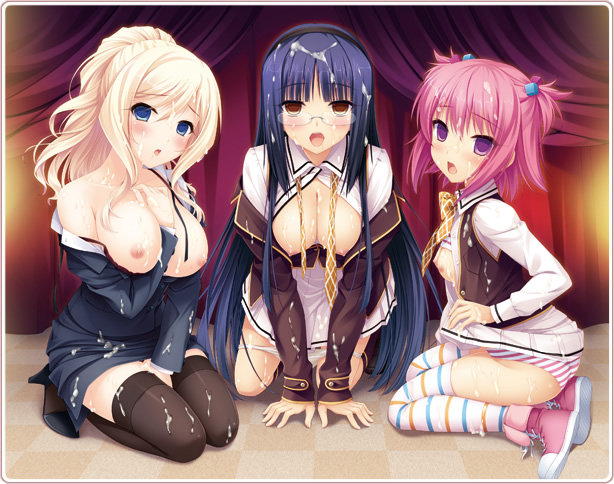 Using hypnotism to trick girls! Any man will dream of this at least once, but in the end, it's just a dream.

The Low Price Award goes to Saimin Yuugi, which allows us to carry out that dream in fiction. You play as the protagonist Urakawa Yanagi, and lead your classmates into deep hypnosis until you can manipulate them to your will. Octopus' careful scenario and Sayori's artwork of the hypnotized girls lead the player into this obscene world…

The "low price" tag usually gives a bad impression, but Staffing's debut title Saimin Yuugi has enough content and quality to match any full price game's, especially with the interesting premise and the glasses function for those who enjoy that. I look forward to the next entry in Staffing's hypnotism series.

– Comic Market Preparation Committee Co-Representative Ichikawa Kouichi
---
Best Movie Gold Prize – Sengoku†Koihime ~Otome Kenran☆Sengoku Emaki~ (BaseSon)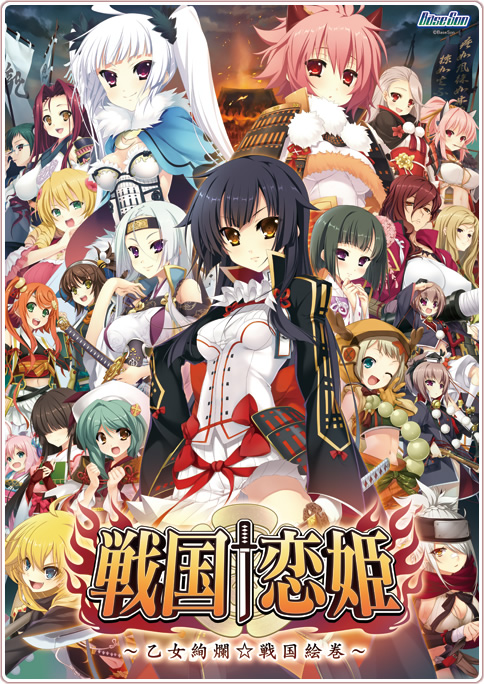 Sengoku†Koihime ~Otome Kenran☆Sengoku Emaki~'s theme song "Jikuu no Pulse" is sung by Faylan, who also sung the opening for Grisaia no Kajitsu, "Shuumatsu no Fractal", which has won the Theme Song Award in the past. The composition and arrangement is done by former Alicesoft composer Shade, so naturally the quality is good and we were originally thinking of giving it the Theme Song Award. However, we wanted to raise awareness for the opening movie that plays alongside the song, so we gave it a special Movie Award instead.

The character design in this movie is done by the famous Ooshima Miwa, who did the character design and art direction for the anime Koihime†Musou, while the creature design is by Iwanaga Yoshinori, who is known for doing prop design in various works. The movie itself is fully animated by ZEXCS, the studio that worked on Sister Princess, DIABOLIK LOVERS, and Aku no Hana. Most moege openings utilize still slides with effects, and when they want movement they rely on budget-friendly 3D modelling. That's why we made this new award to appreciate the overwhelming quality of Sengoku†Koihime's.

– GameStyle Editorial Chief Saitou Daisuke