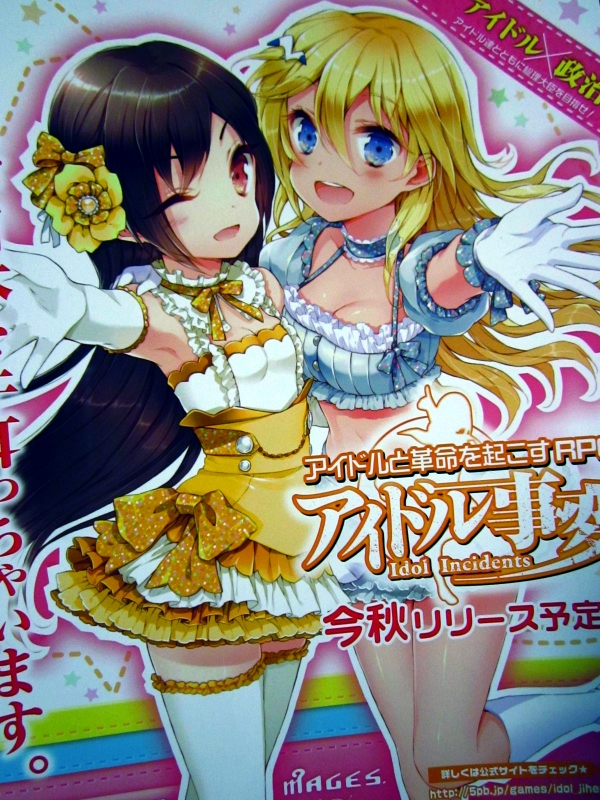 http://5pb.jp/games/idol_jihen (Not up at the time of this post)
https://twitter.com/idol_jihen (Private at the time of this post)
Release date: Fall 2014
Platform: iOS/Android
Genre: Idols + Politics RPG
Summary: Each of the 47 prefectures is run by an idol. You act as a sponsor and support your idol of choice in becoming Prime Minister.
Illustrators: CUTEG (Nakaimo, Gaworare, IDO-LISING!), Tiv (Kamimemo manga), Kuuchuu Yousai (Makai Tenshi Djibril), Mottsun* (Nakaimo manga, Koisuru Natsu no Last Resort), Mitsumomo Mamu (D.C. series, Mercuria), Mikoto Akemi (Hotch Kiss, Kiss Bell, Kancolle Takao & Atago)
Cast: Nomizu Iori, Yamamoto Nozomi, Terai Haruka, Bridcut Sarah Emi, Hidaka Rina, Nakaya Sayaka, Suzaki Aya, Komatsu Mikako, Koiwai Kotori, Anzai Chika, Sadohara Kaori, Harada Hitomi, Touyama Nao, Oogame Asuka, Yoshida Yuuri, Kido Ibuki, Tsuji Ayumi, Fuchigami Mai, Akasaki Chinatsu, etc etc etc.
I'm not actually hyped… I just think the idea is amusing. :v